Monday, April 5, 2010 at 7:48PM
I am also entering these little guys to http://iheartfaces.blogspot.com/, becuase I just love them!!
YAY! We are so excited to feature this DIY project, drum roll please........
Heart Shaped Sugar Cubes!!!
We absolutely love these little guys, they are super fun to add to your wedding or party. We think it would be cute to have them served with coffee and tea, or on a candy table.
Another great idea would be to give them with bags of coffee or coffee cups as favours if you're a coffee lover!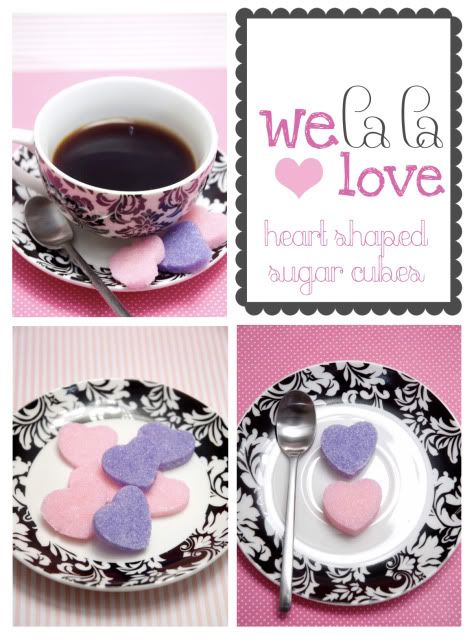 Here are the instructions, enjoy!

Equipment:
small bowls
greaseproof paper (parchment/wax paper)
small heart-shaped cookie cutter
teaspoon
granulated sugar
food colours

1. Prepare bowl with sugar. Then add a tiny drop of food colour to the sugar, and a little water to make it damp. Mix until evenly coloured.

2. On a piece of greaseproof paper, push a small amount of sugar firmly into the heart cutter (see 1) and level the top with a spoon (see 2). Carefully lift off the cutter and let dry (see 3&4)**

3. Repeat until all the sugar is used up.

** note: make sure that you do not try and move the cubes until they are dry, about 1/2 hour
Please check out the website here
I am submitting this photo into the I Heart Faces logo photo contest. By entering, I am granting I Heart Faces LLC permission to consider my photo for use in the marketing and promotion of their website
lala love
|
5 Comments
|